The City of Newcastle was host today to the first ever GreenPort Congress in the Southern Hemisphere. The coastal city, located more than 150 kilometres north of Sydney, is home to the biggest coal port in the world.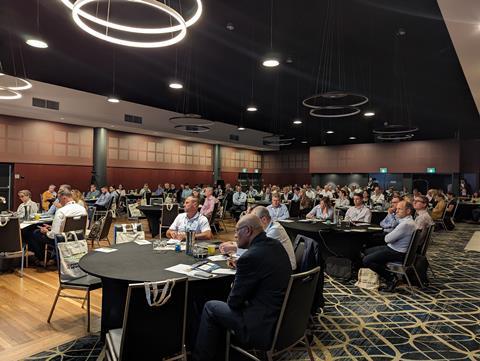 From 15-17 February the conference will bring port operators together with all players in the maritime supply chain to discuss global and regional sustainable practices. The event kicked off with an address from Port of Newcastle CEO Craig Carmody, who took the opportunity to showcase the port's sustainability efforts and achievements. With Newcastle being the single largest coal exporting region in the world, "it's beholden on all of us to prepare for the future," Mr Carmody said, adding this needs to be done in a "sustainable, resilient and methodical way".
"We have significant support from all aspects of civic and business in this community," he said, including the Federal Government member for Newcastle, Sharon Claydon. Via a pre-recorded statement, Ms Claydon said, "Newcastle has powered the world for generations with our region's coal and the port's diversification will ensure we continue to do so for generations to come with renewable energy. "Our region is poised to take full advantage of the new energy industries and the jobs of the future."
Port of Newcastle's business strategy is for "50/50 by 2030", that is 50% of revenue should derive from non-coal sources by the end of this decade. Currently the split is 31% from non-coal trade, up from 11% in 2018. "We know it's not going to happen overnight but we are committed," Mr Carmody said.
Over the past four years the port has been on a steep learning curve in sustainability, implementing an ESG strategy that has been successful in reducing Scope 1 and 2 emissions and undertaking GRESB assessment to obtain a global benchmark. "We're on track to achieve a long-term target of net zero emissions by 2040. Our Scope 3 baseline emissions have been measured and we're aligning them with our 2040 targets with STBi (The Science Based Targets initiative)," Mr Carmody said. "Four years ago… we were losing banks because we were the world's biggest coal port. And we've worked over four years to change that. So if a port as big as ours in coal can change, this idea that transition is too costly is absolute nonsense."
Conference panel members were asked later, by an audience member, how Port of Newcastle accounts for carbon emissions from the downstream combustion of the coal it exports. While, the port's chief commercial officer, Simon Byrnes pointed out that these emissions fall outside the scope of the organisation, it does raise the question of the responsibility of ports in the global coal supply chain.
As it stands, coal has made the Port of Newcastle critical to the success of the state of New South Wales' economy, contributing $70 billion in trade and providing 10,000 jobs. "We are the single largest revenue source for the State Government. So, we can do all this [diversification] and we don't put at risk our role or the economy of NSW," Mr Carmody said, adding the port handles 160+ million tonnes of coal per year. "And we don't know when coal will end, nobody knows. We are getting ready now… for that inevitable day," he said.
As he rightly pointed out, "you can't overnight find 160 million tonnes of something else". "So what we're doing is creating new business opportunities at the port while we can afford to do so. We do it with a plan, not in a crisis. "So for us it's not a 'nice to do', it's a 'must do'. It makes it a little bit easier to make a choice when you don't have a choice," Mr Carmody said