Krzysztof Zalewski, Marketing & International Relations Specialist, for the Port of Gdansk has been announced as a Speaker at Coastlink.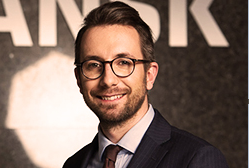 Krzysztof has extensive experience in the maritime and logistics industry, as well as majoring in Political Science with Foreign Relations specialisation. He is the key representative at the Port of Gdansk for both foreign relations and overseas port membership for international associations.
Since 2017 he has represented the Port of Gdańsk with enterprises relating to the Belt and Road initiative. Krzysztof will deliver a presentation based on the Port of Gdansk's role in the Baltic region's maritime industry. He will highlight the development of the Belt and Road and the importance to polish trade. Krzysztof will then look at the port's position on both the opportunities and the threats of this Chinese initiative.
Krzysztof is a member of the inter-governmental Polish-Kazakh and Polish-Ukrainian Transport Parties. Since late 2018 he has also been involved in the Port of Gdańsk's efforts to acquire and implement the Port Community System.
Don't miss the opportunity to hear Krzysztof speak at the Coastlink Conference, Join us at the event and network with key stakeholders from ABP, Unifeeder UK, and BMT Global, as well as industry bodies such as British Ports Association and the Freight Transport Association.
For more information on the Coastlink Conference Programme Click Here
Discounts are available for members of our Supporting Associations. For more information on how to book your delegate place, visit our website. Alternatively, please call the team on +44 1329 825335 or email info@coastlink.co.uk.