Following the success of the first event in April, the Coastlink Conference introduce the next session of Coastlink Live on 30 September 2021.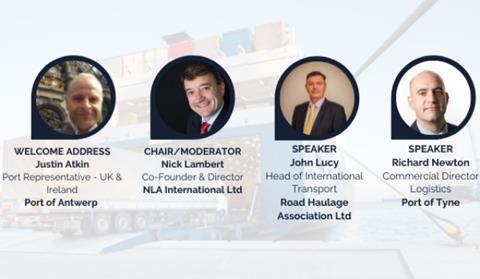 This bitesize online conference will deliver an expert panel looking at factors affecting the industry including economic, political and environmental considerations. Looking at the prospects for short sea and feeder shipping including market growth and challenges in the supply chain.
Register now for the second free to attend online conference on Thursday 30 September 2021 10:00 - 11:00 BST which will focus on: Short Sea Feeder Shipping: Navigating through road-freight supply chain challenges.
This session will discuss the benefits to moving freight closer to the final destination by sea, alleviating pressure on long-haul road freight and industry wide driver shortages.
Coastlink Live will once again be moderated by Nick Lambert, co-Founder and Director of NLA International. Joining Nick for this next session will be:
- Justin Atkin, UK & Ireland Representative, Port of Antwerp (Welcome Address)
- John Lucy, Head of International Transport, Road Haulage Association Ltd
- Richard Newton, Commercial Director Logistics at the Port of Tyne
Register here to find out how short sea feeder services can increase the efficiency of your supply chain.