Register today for the first free-to-attend online Coastlink Live conference. Taking place on 22nd April 2021 between 10:00 – 11:00 BST, the event will focus on Short Sea Shipping: Adapting the supply chain in the post-Brexit era. Looking at how the movement of freight is changing post-Brexit and the impact this is having on both the supply chain and the short sea shipping sector.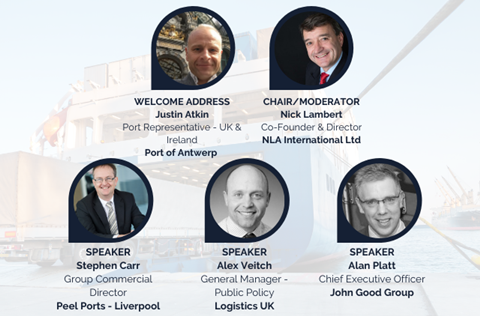 The session will take a look at the emerging changes being seen with a shift from road towards short sea and feeder routes; expanded routes from Europe to the UK; increased routes direct from Europe to Ireland; and the impact on warehousing. Will these emerging changes be short term – or are we witnessing a longer-term shift?
Joining this session will be our expert panel of speakers - a leading industry Port Operator; Shipping Agent and Freight Forwarder; and industry association - Logistics UK:
- Stephen Carr, Group Commercial Director, Peel Ports - Liverpool
- Alan Platt, CEO, John Good Group
- Alex Veitch, General Manager – Public Policy, Logistics UK
Justin Atkin, UK & Ireland Representative for the Port of Antwerp will deliver the opening welcome address with Nick Lambert, Director of NLA International moderating this bitesize session.
Ahead of the Coastlink Conference event taking place at the Port of Antwerp on 29 & 30 September 2021, join us for the Coastlink Live event to gain insight into the factors affecting the industry since the start of 2021, and how our panel of experts view this current position.

Without the opportunity to meet at face to face networking events this is a chance to engage with fellow industry stakeholders in a virtual format and keep at the forefront of key industry discussion.

Register today and enjoy the first Coastlink Live event!