Over 140 delegates are already registered for Coastlink Live, with 3 weeks to go. Taking place on Thursday 22nd April 2021 at 10:00 – 11:00 BST this free to attend virtual session will look at Short Sea Shipping – Adapting the supply chain in the post-Brexit era.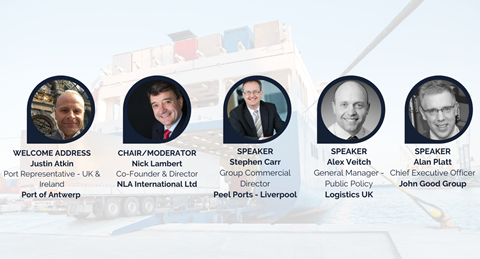 Learn from our expert panel how the movement of freight is changing post-Brexit and the impact this is having on both the supply chain and the short sea shipping sector.
The event will be moderated by Nick Lambert of NLA International with Justin Atkin, UK & Ireland Representative for the Port of Antwerp delivering the welcome address.
Our expert line-up of speakers at the event include:
- Stephen Carr, Group Commercial Director, Peel Ports – as one of the largest Port Operators in the UK, Stephen will discuss the changes being seen in the Irish Sea routes, the increase in direct shipping between Ireland and the continent, and how he sees the future developing.
- Alan Platt, Chief Executive Officer, John Good Group – as a freight forwarder and shipping liner agency Alan will provide his insight on how they are witnessing a shift from road freight to short sea shipping with increased and expanded routes from Europe to the UK, and what is driving this change.
- Alex Veitch, General Manager – Public Policy, Logistics UK – as one of the biggest business groups in the UK Alex will provide his thoughts on the impacts being experienced by their members and the challenges being faced across the logistics sector.
This first virtual session of Coastlink Live is sponsored by Navtek Naval Technologies Inc - a highly specialist naval engineering, design and shipbuilding company, guided by a commitment to technological excellence and an innovative forward-looking approach.
Don't miss the chance to keep up to date with the latest in industry discussion. Register today for Coastlink Live and take the opportunity to put forward your questions to our panel of experts in the live Q&A.