Shortsea connections to and from Antwerp saw steady growth in volumes during the first four months of 2021. The increase in activity can be partly explained by an increase in feeder transshipment volumes. The temporary suspension of certain direct deepsea calls in the United Kingdom resulted in an increase in transport via shortsea.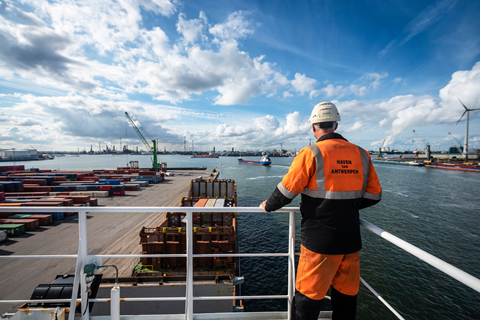 Ireland and the United Kingdom
The suspended deepsea calls have resulted in additional shortsea connections to and from (Northern) Ireland and British ports such as Liverpool and London. Furthermore, goods from the hinterland of the port of Antwerp are increasingly being carried directly to Ireland instead of via the 'land bridge' with the United Kingdom. The turnaround time is faster as a result of the customs regulations that came into force after Brexit. This is also attracting new cargo flows that are bound for the United Kingdom via (Northern) Ireland. Grimaldi, for example, is adding new services to Ireland in order to meet customer demand for transport post-Brexit. The new Antwerp-Cork RoRo service (two departures per week) is creating a competitive and eco-friendlier alternative to the UK land bridge.

Baltic Sea
Unifeeder has increased the frequency of its service to St. Petersburg to three departures per week. There is also a new weekly departure on Tuesdays connecting PSA Antwerp and Antwerp Gateway with Riga and Klaipeda. Meanwhile, WALLENIUS SOL is putting on an additional ship on the route to western Finland (Kokkola and Rauma). The increase in frequencies reflects the growing demand for connections to and from the Baltic Sea.

Rail supports expansion of shortsea
Additional rail connections are providing support to the higher frequency of shortsea connections. A logistics chain combining railway transport and shortsea is creating new opportunities: destinations in Portugal and parts of Spain now enjoy rapid connections with destinations in Central and Eastern Europe when shipping through the Port of Antwerp.

Tight schedule
Jan Cuyt, Business Development Advisor at Port of Antwerp: "Feeder volumes are extremely important for the growth of shortsea from Antwerp. On the other hand, they also create challenges. Shortsea is dependent on deepsea as far as scheduling and planning is concerned. Predictable turnaround times are crucial in order to be able to offer efficient shortsea connections."
Article by the Port of Antwerp
Coastlink 2021 will be hosted by the Port of Antwerp. Join Jan Cuyt and representatives from the port for the full conference event, being held in the Port House on 29th & 30th September 2021. To book your delegate place, visit the Coastlink Website for more details. Alternatively, please call Joanna Miller on +44 1329 825335 or email info@coastlink.co.uk.