Coastlink Live returns on 3 November 2022 for the next online session which will feature 'The road to net zero - a look at the challenges and barriers'.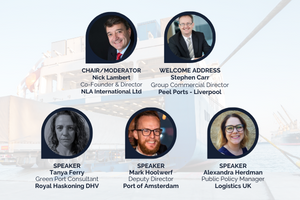 Taking place from 10:00 – 11:00 UTC this free-to-attend session is an introduction to the main Coastlink event in May 2023 and will discuss the challenges and barriers facing ports, short sea shipping and the supply chain, on the journey to net zero.
The key theme of growing sustainable supply chains remains at the forefront of the Coastlink agenda together with encouraging industry collaboration.
Coastlink's Chairman - Nick Lambert, Co-Founder & Director of NLA International – will moderate the session and he will be joined by a panel of speakers, including:
Stephen Carr – Group Commercial Director, Peel Ports – Liverpool
Tanya Ferry – Green Port Consultant, Royal Haskoning DHV
Mark Hoolwerf – Deputy Director, Port of Amsterdam
Alexandra Herdman – Public Policy Manager, Logistics UK
Sign up today to learn from our panel of experts as they provide their insights on the actions being taken to overcome the clear challenge of decarbonising ports and the supply chain; the shift to greener modes; and how the energy transition is creating opportunities for a more sustainable future.
Register here for Coastlink Live
All registered attendees will receive a post event recording of the session.