Eleni Bougioukou, Innovation Manager at the Port of Tyne, joins Coastlink line-up.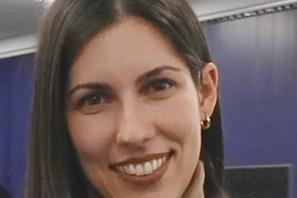 Eleni will present on Tyne 2050 and the transformational journey to be a centre of excellence for clean energy, digitalisation, decarbonisation, and innovation.
Joining Session 3 at Coastlink where the discussion and debate will consider 'Looking to the future – Improving efficiencies through digitalisation and innovation', Eleni will provide her insight into the delivery of Tyne 2050 and the UK's first Maritime Innovation Hub, sited at the Port of Tyne. She will consider the efficiencies that can be made through digitilisation, decarbonisation and innovation in the maritime industry.
Eleni leads and manages the strategic development and tactical implementation of pioneering, sustainability-focused innovation and technology activities required to achieve the Port of Tyne's strategic net zero and environmental objectives, as outlined in the ambitious Tyne 2050 strategy.
Driven by her enthusiasm and energy, Eleni is also undertaking a part-time PhD at Newcastle University focusing on green and smart ports. In her role at the Port of Tyne and in her PhD research, Eleni is looking at multiplying the advantages of new technologies and innovative business ideas, through the collaboration of pivotal stakeholders from academia and industry, with a common goal to achieve a green, sustainable, and smart future for the maritime sector.
Joining Eleni for Session 3 at Coastlink are business leaders from BIMCO, the Port of Rotterdam, Dutch Customs Administration, Navtek Naval Technologies, and the British Ports Association.
Coastlink's session topics at the 2022 event include:
Market Sector Overview: Industry Challenges and New Opportunities for Short Sea & Feeder Shipping
Building Connectivity & Networks for the future – linking Short Sea & Feeder Shipping to Intermodal Transport Routes
Looking to the future – Improving efficiencies through Digitalisation & Innovation
Limited spaces remain so take advantage of the learnings and informative debate on offer at Coastlink and book your delegate place now online or contact Joanna Miller on +44 (0) 1329 825335 or email info@coastlink.co.uk