If you missed the September session – take the chance to catch-up with Coastlink Live On-demand.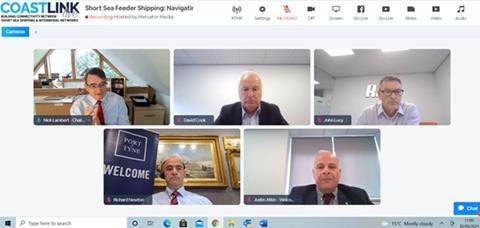 This second session of Coastlink Live delivered an insightful overview on the opportunities for Short Sea Feeder Shipping in Navigating through road-freight supply chain challenges.
John Lucy, Head of International Transport at the Road Haulage Association looked at the road freight capacity issues and the reasons behind driver drop off rates. Discussing the growing trend for regional ports and how, for the first time, short sea containers are now competing against trailers on price and time.
Discussing the benefits of moving freight closer to the final destination, Richard Newton, Commercial Director Logistics at the Port of Tyne gave a clear picture on the environmental benefits to moving containers and breakbulk by short sea feeders. He highlighted this modal shift as a more efficient and resilient means of moving goods – alleviating pressure on road hauliers coupled with reducing carbon emissions.
Outlining the benefits of port centric operations David Cook, Group Logistics Manager, TATA Consumer Products discussed the advantages of direct handling of raw tea on site at the Port of Tyne, streamlining the import / export nature of their business and removing the need to move goods by road to other sites. He viewed port centric operations as a future trend and a way to deliver a sustainable and robust supply chain.
Watch the recording of Coastlink Live and hear what our panellists had to say.
Watch Coastlink Live On-Demand
The next in-person Coastlink Conference will take place on 11th & 12th May 2022 at the Port of Antwerp – for more details on how to book your delegate place visit the Coastlink Website