Welcoming all attendees to the Coastlink Conference Michiel Vermeiren, Manager Maritime Business & Market Intelligence at the Port of Antwerp-Bruges, opened the 2022 event!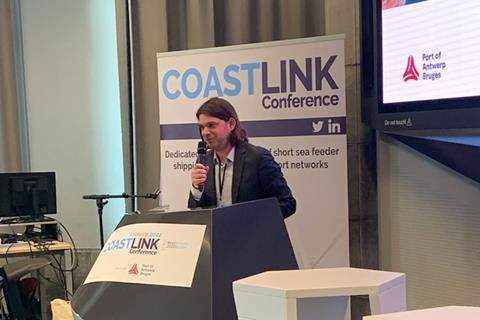 It's an exciting time for the newly merged Port of Antwerp-Bruges with a clear vision on being a world port of the future. Michiel highlighted the port's ambition to become a world port that reconciles economy, people, and the climate – with the rest of the world.
As Europe's largest export port, the Port of Antwerp-Bruges will also be the largest throughput port for vehicles, the largest integrated chemical cluster and one of the leading container ports in Europe.
By focusing on bolstering interconnectivity between the Antwerp and Bruges sites and achieving economies of scale in digitalization, the unified port will contribute to the efficiency, reliability, and sustainability of the logistics chain. Michiel commented "If we can offer alternatives to truck, with rail and barge it helps with the shortage of truck drivers".
The ports will combine the best of both worlds and will focus on the strengths of each site as they are largely complementary. Antwerp, for instance, has strengths in the handling and storage of containers, breakbulk, and chemical products. While Zeebrugge is a major port for RoRo traffic, container handling and the transshipment of liquid natural gas.
Michiel stressed that "Interconnectivity, working collaboratively, and working in partnership" are very much key to future success – the theme Coastlink will be covering throughout the 2-day conference event.