The port of Antwerp has been handling goods for the production of renewable energy, such as wind turbines, for more than a decade now. In that period, the global wind energy market has nearly quadrupled. And as the market itself has grown, so has Port of Antwerp's expertise.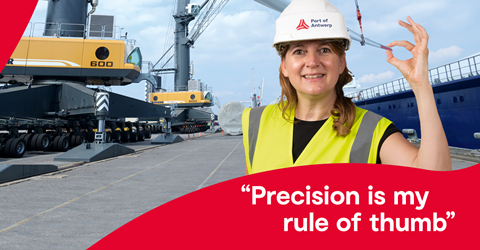 Wind turbine components, such as motors, hubs, blades, tower sections and nacelles come in all sizes and weights, which is why project cargo of that type therefore requires specialised logistics.
Port of Antwerp will guide you through the process, step by step.
Download the port journey of a wind turbine.
A journey of discovery that relates to locomotives, industrial furnaces or power plant units is also available.
Exceptional Cargo, Outstanding Care
The port of Antwerp is home to a large number of freight forwarders specialising in heavy lift and project cargo logistics. They are known worldwide for their broad multidisciplinary knowledge of project logistics. They also think several steps ahead and successfully complete seemingly impossible and difficult transportation tasks, while ensuring that cargoes that are often very sensitive and valuable are handled safely. Thanks to their expertise, shippers can be certain to receive a full-service solution and that is also the reason why these specialist freight forwarders form a crucial part of the supply chain for this type of cargo.
The following stories are available for download on https://www.portofantwerp.com/en/projectcargo

- Discover how we unload and store wind turbine components.
- Look to find out how we transfer heavy machinery for a power plant onto an inland navigation vessel.
- Find out how items of exceptional transport are placed on board RoRo vessels.
- Find out about the challenges involved in packaging large industrial furnaces
Article by the Port of Antwerp
The Coastlink 2022 Conference will take place on 11th & 12th May at the Port of Antwerp – for more details on how to book your delegate place visit the Coastlink Website