Challenges and barriers on the journey to net zero, were raised and discussed last week at the Coastlink Live pre-event webinar. If you missed it, you can now enjoy the recording and hear what our panel of experts had to say.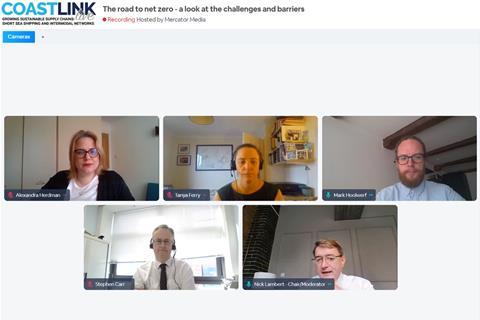 As an introduction to the main event taking place in Liverpool on 3 & 4 May 2023, our event Chairman and panel of speakers discussed the challenges and barriers facing ports, short sea shipping, and the supply chain, on the road to net zero.
Welcoming attendees to the session Stephen Carr, Group Commercial Director at Peel Ports Liverpool, shone a spotlight on the role and considerations for ports in the journey to net zero. He explained some of the challenges being faced with future fuels – highlighting the uncertainty around the model which will be used going forward and the commercial risk associated with this.
Tanya Ferry, Green Port Consultant at Royal HaskoningDHV acknowledged that the road to net zero is a journey, and that each port is at a different point in the process. Whilst net zero is possible there is now much interest in being carbon positive – and that it is now not just about being green but about being smarter.
Alexandra Herdman, Senior Public Policy Manager at Logistics UK highlighted the benefits of a modal shift to moving freight by rail and water and the environmental advantages this delivers. However, the barriers being faced include lack of infrastructure, accessibility, and the last mile solutions.
Mark Hoolwerf, Deputy Director at the Port of Amsterdam International outlined their strategy and one of the challenges to move away from fossil fuels to more sustainable energy sources, with hydrogen being a key priority. The Port of Amsterdam have set ambitious goals to meet their Clean Shipping targets and are fostering relationships to import green hydrogen to meet their energy transition plans.
A common theme emerging from the panel was the importance of collaboration in helping drive forward sustainability plans across the sector to meet the net zero targets. A theme that will continue at the Coastlink event in May 2023.
Watch the session now and hear what our speakers had to say in this bitesize session of Coastlink Live.
For further information on Coastlink 2023 – taking place on 3 & 4 May – visit the Coastlink website.