After a successful first day, the second day of the GreenPort Congress kicked off with a focus on port-city relationships moderated by Professor Daniel Moon of the World Maritime University.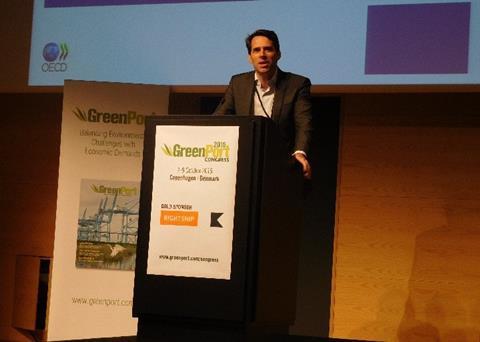 Olaf Merk of OECD - author of several of the organisation's publications on ports - discussed the need for port-city cooperation in greening ports.
Mr Merk is part of the OECD's think-tank on shipping, the International Transport Forum. It publishes policy relevant research for governments and has 57 member states.
"Collaboration is needed", he said. "That's because of the impact, the instruments and the implementation of green initiatives."
These instruments he said include information about the problem and taking inventories. Incentives can reward good behaviour and punish bad behaviour, something that many port policies already take account of, in speed and emission limits, for example.
Regulations are another rock solid instrument and infrastructure upgrades also play a role in greening ports.
Ports need to become stage directors in bringing together multiple interests towards a win-win situation he said. "I think it is time to move beyond the silo approach and start to think about port-city cooperation and this will inevitably help in the greening of ports," he concluded.
The next presentation was from Ellen Corke, climate strategist, environmental department, City of Malmö and Murat Mirata, assistant professor, Linköping University, who discussed Malmo's EPIC 2020 Project on industrial symbiosis.
"Over the last three or four decades we have come a long way in improving the environmental platform for industry, said Mr Mirata.
By joining forces, more effective infrastructure can be developed. In Kalundborg, Denmark, an integrated development has been built around a coal-powered plant. Over the years the plant and other entities - a refinery, an enzyme producer and others have developed a symbiotic relationship, with by-products from one being used in the others and resources shared.
The problem is, these developments face a lot of challenges - if they didn't we would see more of them. Decision-related issues and implementation related issues are the main problems.
Malmo aims to be carbon neutral by 2030. The city's EPIC 2020 project invited stakeholders to form a network and create a shared vision. Its first aims was increase port-city integration, have a systematic utilisation of industrial symbiosis and to increase the use of biomass in the port area.
Inland logistics
The second session of the day focused on logistics, multimodal solution and traffic management.
Rosa Mari Darbra, Polytechnic University of Catalonia and Chris Wooldridge, Cardiff University, made a joint contribution using findings from their researchers Xavier Segui and Marti Puig.
Mr Wooldridge said: "We sometimes forget that inland ports are highly significant to the debate about the corridor. I wonder if they are a special case in environmental management."
"The port sector is judged by the worst-performing ports. If the port sector demonstrates on a voluntary basis that there is no need for regulation, regulators would step back - and that's what has happened with the development of Ecoports."
The Ecoports tool can assess significant environmental aspects, useful for ports that are not big enough to have their own assessment systems. After the survey is completed, an email provides a list of potential indicators for the port. It's available for free use at www.ecoports.com
Working groups
GreenPort sat in on the work group on port-city cooperation in sustainability initiatives, starting with a case study from the Port of Oslo. Heidi Neilson, Head of Environment, Port of Oslo and Thanh Nguyen, CEO, PortsEYE were the first to take the podium.
They said that Oslo city undertook an air quality assessment in cooperation with the port last year. Ms Neilson said that 50,000 deaths were caused by air pollution in Oslo over the last ten years and air quality is rising on the port agenda.
The resulting inventory covered NOx, PM, SO2 and CO2m and showed that the Port of Oslo accounts for 9% of NOx air emissions in Oslo. Road traffic accounts for 82%.
Of port emissions, ferries represent 35% of emissions and cruise for 22%. Containers accounted for only 8% of port emissions, while shore activities account for another 8%.
"So you can see where you need to focus your efforts and also where you will get the most cost benefit," she added.
Measures taken to reduce NOx were: Reducing traffic volumes on roads by 20%, cutting port emissions by 5%, reducing speed on ring roads and highways and increasing the use of hybrid and electric vessels.
The collaboration between city and port also allowed for meaningful discussions on emission-cutting measures including onshore power and catalysts on auxiliary engines - which it has found to reduce NOx emissions by 80% when ships are at berth.
The reports from all of the working groups throughout the Congress will be sent out to delegates after the event.
Chris Wooldridge concluded this year's GreenPort Congress, thanking Copenhagen Malmo Port for being this year's host. Thanks also goes to our sponsors and supporters and of course all this year's delegates.
Watch out for the full report of GreenPort Congress and Cruise 2015 in the winter issue of GreenPort magazine.