Use of Tradelens Blockchain technology has received a boost with the technology being introduced in three important ports across a wide geographic area. Rotterdam, Thessaloniki and the customs authorities in Pakistan are all tapping into the technology.
The Port of Rotterdam has released a new service offering, Quay Connect, which aims to make customs procedures applicable from the Netherlands to the UK easier. The service allows for the automatic exchange of information with the UK's customs authorities at ports. This enables exporters to have the ability to digitalise and streamline exporting and customs processes.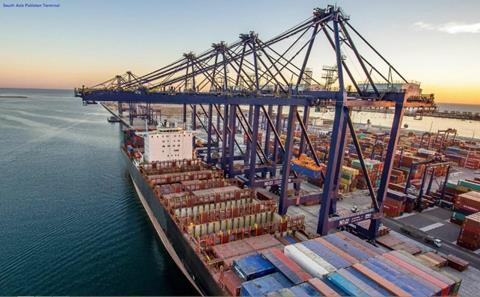 According to the port, a pilot progamme has seen shipment savings of at least 30 per cent for each customs clearance, the faster and more efficient processing of documents and goods (at least 20 per cent faster), a general reduction in manual work and less scope for errors.
Thessaloniki Port Authority (TPA) is expecting the TradeLens platform to improve asset and yard management by better leverage of information from partners in the supply chain, while also being able to reduce the cost of connecting to each individual shipping line customer and the wider port community.
The other major benefit to Thessaloniki is to replace manual, paper-based and time-consuming administrative processes with digital procedures that optimise and accelerate the decisionmaking process for the port and its associated ecosystems.
In a third development, the Pakistan Single Window (PSW) Company has signed an agreement with TradeLens on behalf of Pakistan Customs, to digitise import-export documentation of the containerised cargo moving in and out of the country.
The federal government in Pakistan has an ongoing initiative to transform Customs processes in the country by modernising documentation through a secure, paperless and digital solution. Adopting the TradeLens platform is expected to strengthen controls in Pakistan against trade-based money laundering.
The TradeLens platform provides visibility across the whole supply chain network and utilises detailed input from industry, which includes direct integration with more than 180 ports and terminals globally, along with in excess of 15 customs authorities and an increasing number of intermodal service providers.