The host's of this year's GreenPort Cruise & Congress, Port of Piraeus hosted the Welcome Reception which took place on the rooftop garden of the Athens Marriott Hotel on 19 October 2021.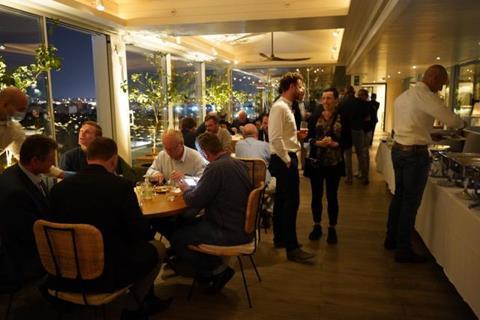 Attendees included ESPO's Secretary General, Isabelle Ryckbost, World Ports Sustainability Program's Technical Director, Antonis Michail & MSC Cruise's Director of Sustainability, Linden Coppel.
The welcome reception gave delegates the perfect place to meet up with old friends and network with new ones and was welcomed by all after multiple months of covid restrictions.
The Port of Piraeus is located at the crossroads of Europe, Asia and Africa, being the natural port of Athens and Greece's main gateway. The Deputy CEO of PPA S.A., Captain Weng Lin, stated in his opening speech: …"Our exponential growth in recent years, which is still underway, can only be sustainable when linked with green development concepts. We are embracing Europe's ambition to be the world's first net zero emission area by 2050 and we are committed to minimize the impact of our business operations on the environment and implement a series of actions in order to create a port which operates as a role model in green innovation with significant environmental performance…".
Watch out for details on next year's event which will be announced soon.